Kenmore Middle School and Carlin Springs Elementary school have a sustainable access problem - in addition to being located at the edge of the County, they are surrounded by barriers, dead-end streets, and poor bicycle and pedestrian infrastructure leading to low walking & biking rates, high parental drop-off rates, and the inevitable traffic and safety problems that result.  One project that could start improving this situation is what Sustainable Mobility for Arlington County calls the "Kenmore Connector Trail" - a walking & biking trail on the west side of Carlin Springs Road that could connect Kenmore & Carlin Springs across Arlington Blvd to the W&OD Trail.
Access Problems
Kenmore Middle School has the highest parental drop-off rate of all of Arlington's Middle Schools.  Nearby Carlin Springs Elementary School has the 2nd lowest walk & bike to school rate of all neighborhood elementary schools in Arlington.  The lowest walk & bike to school rate is at Hoffman-Boston, a school whose attendance area spans both sides of I-395.  These rates cannot be explained solely by these schools' location near the County border, Jamestown Elementary which is similarly situated has a 50% higher walk & bike rate than Carlin Springs.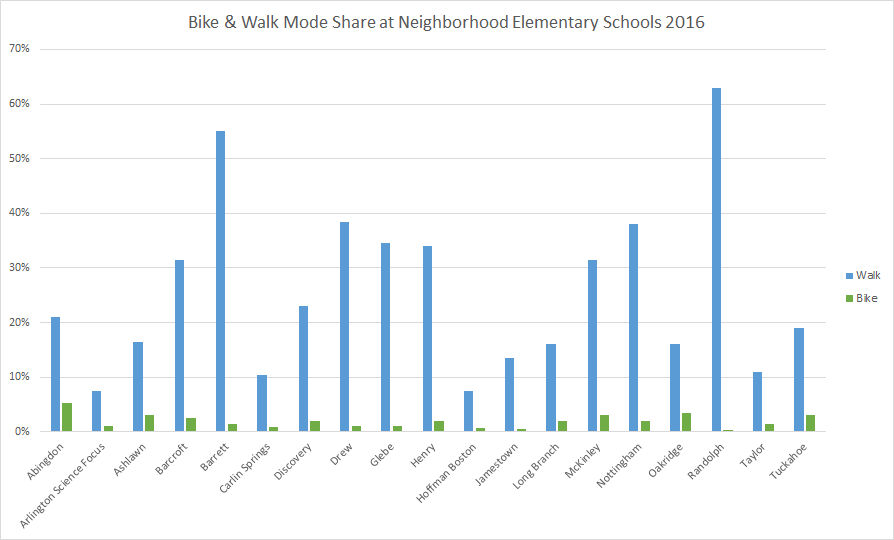 Exacerbating their location is the disconnected and car-oriented street network in the area.  Kenmore & Carlin Springs are, in many ways, cut off from much of their attendance area by major arterials with poor bicycle & pedestrian facilities that are difficult to safely cross - Arlington Boulevard & Carlin Springs Road.
One of our greatest pieces of walking & biking infrastructure, the W&OD Trail, is nearby as the crow flies - just 800 feet or so; unfortunately, it may as well be on the moon from a Safe Routes to School perspective.  Reaching the schools from the W&OD requires traveling on narrow sidewalks alongside speeding cars on Carlin Springs Road as well as on the Four Mile Run Trail which is not plowed in the winter.
An Achievable Way to Improve Access
It will take more than a single trail to solve these schools' transportation issues, but it's a solid, achievable first step and it's already in the County's Master Transportation Plan (Bicycle Element Project #2-26).  The trail would improve access for all families living north of Arlington Boulevard by improving the safety of the underpass and would connect the school so the W&OD Trail which, in addition to being car-free, is cleared of snow by NOVAParks in the winter.
What Would it Look Like? What are the trade-offs?
While there are various ways this design could go, the concept from Sustainable Mobility from Arlington County involves a 10 to 12' wide trail on the west side of Carlin Springs Road, stretching at a minimum from 3rd St S to N Kensington St, connecting to the W&OD Trail via a new stub trail adjacent to the Dominion Power Substation access road.  Possible extensions to the trail could include a continuation southwest connecting along the edge of the Carlin Springs Elementary property to Glencarlyn Road and/or an extension along the onramp to eastbound Arlington Blvd to significantly improve connectivity to the Arlington Boulevard Trail.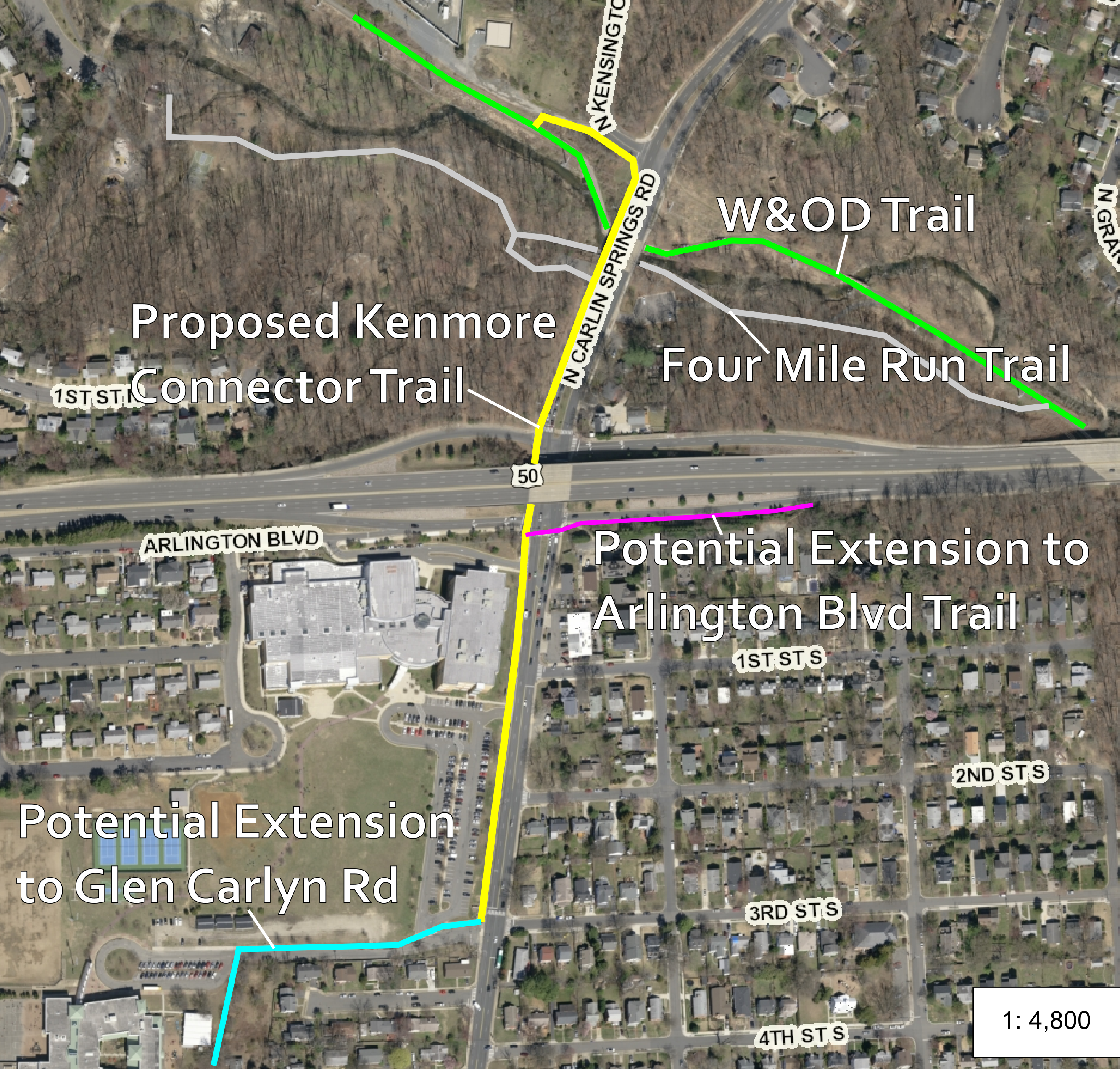 Such a trail design would not require any loss of driving lanes; it would not require a road diet.  It could be achieved via narrowing existing lanes to more reasonable urban widths as well as some expansion outside the existing right of way - for instance slightly onto Kenmore Middle School Property.  The following cross-sections, showing existing and proposed at the same scale gives a good sense of where the space would come from - from north to south: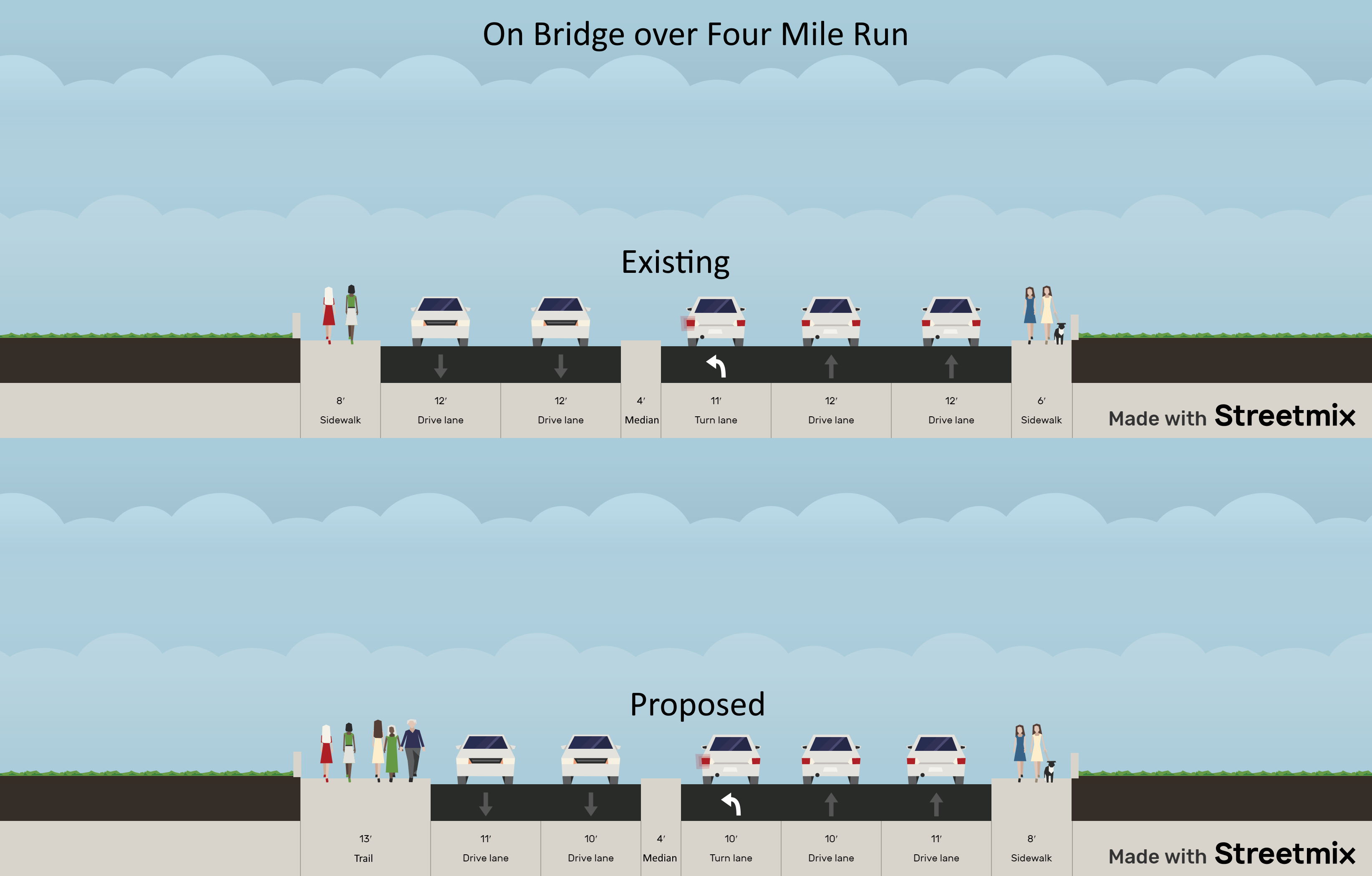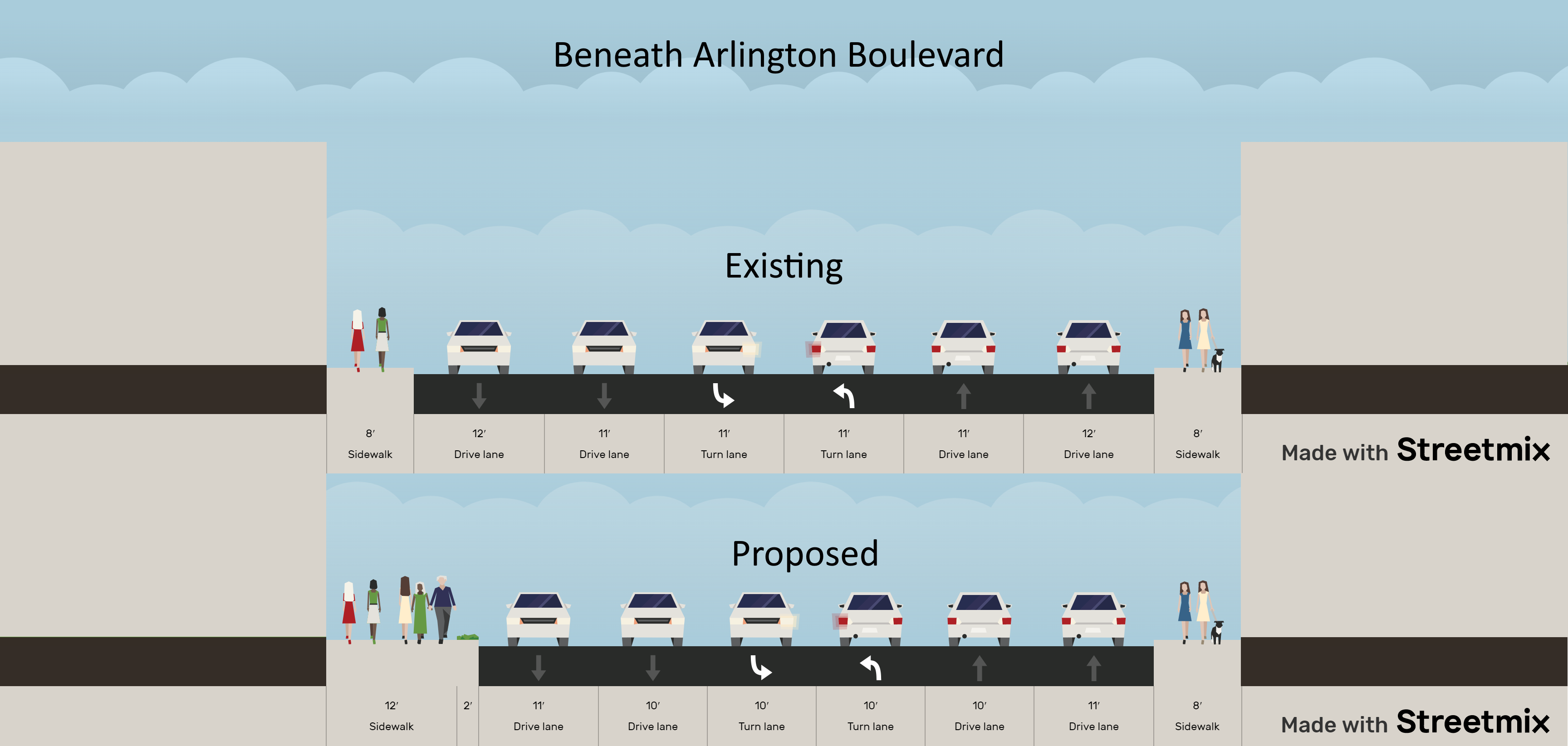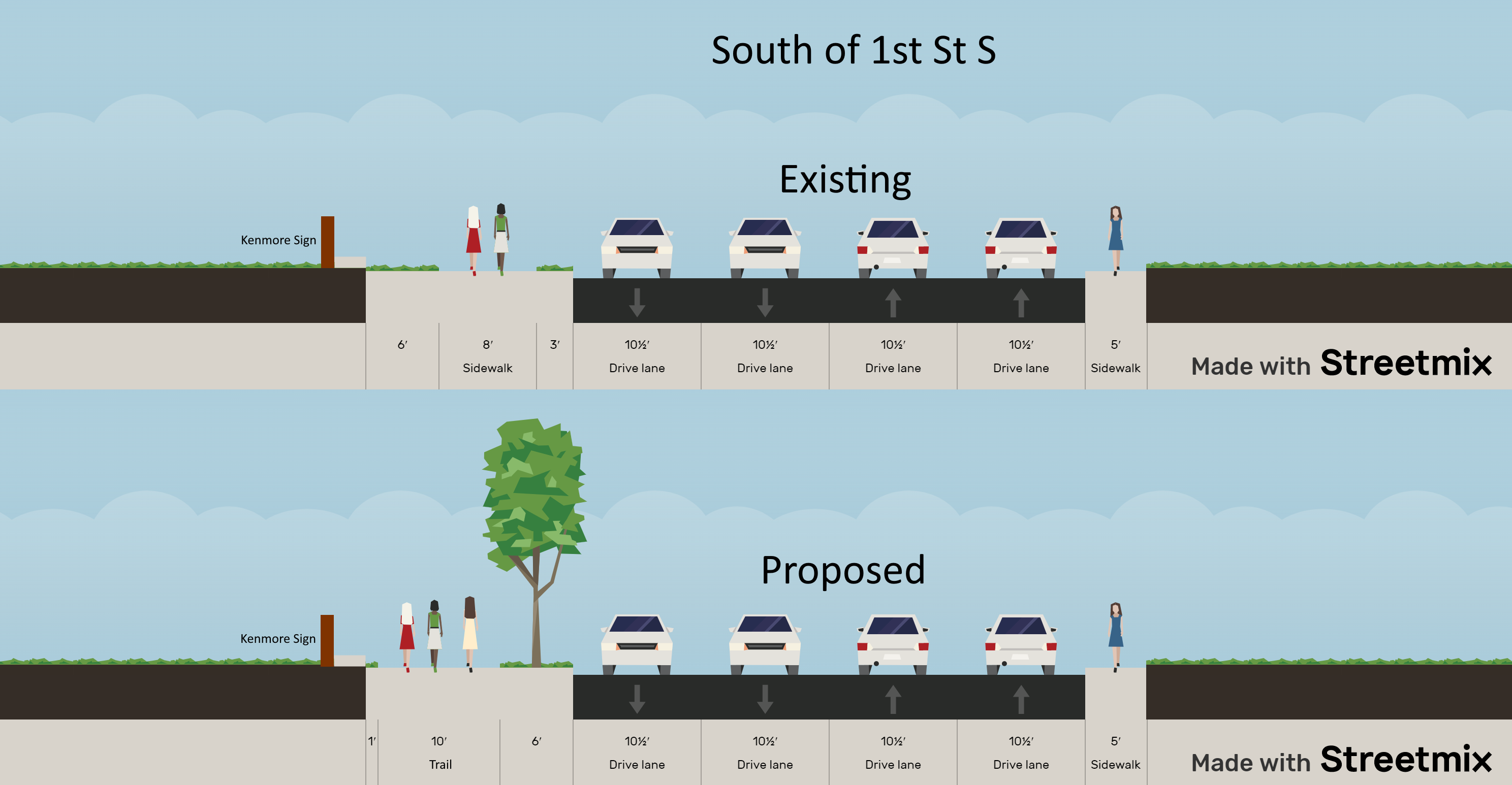 Benefits
Safe Routes to Schools projects such as this one are hugely beneficial to our community.  Kids who walk and bike to school are happier and learn better, it reduces automotive congestion, improves safety, reduces transportation costs for the school system, improves kids' health and fitness, and more. On top of that, this trail would be useful for those accessing the schools for other reasons - for community events, theater performances, sports, etc - and would be a useful link in the walking and biking network for all users.
Potential Expansions
While the trail along Carlin Springs is the main priority, there are two potential extensions worth mentioning.  First, Glen Carlyn Road is one of the main bike links to Fairfax County.  Continuing the trail along Carlin Springs Road to Glen Carlyn is difficult without removing a lane of traffic, but an alignment that goes west along the parking access road and then cuts south to Glen Carlyn along the eastern edge of the Carlin Springs ES property line appears achievable and would connect that Fairfax County route to the W&OD and the rest of the trail network.
The second potential extension would be a trail along the on-ramp to eastbound Arlington Boulevard connecting to the Arlington Boulevard Trail.  While connecting to the trail is possible today, it involves a narrow and steep stretch of trail up to a disconnected piece of Arlington Boulevard service road and then another narrow and overgrown trail connection down to the main Arlington Boulevard Trail to continue east.  This connection is hidden & hard to navigate, the new trail extension would be much more visible and could be built to modern safety standards.
I'm In
If this trail is going to get built anytime soon, it will need to be included in the County's upcoming 10-year Capital Improvement Plan this Spring.  Check out Sustainable Mobility for Arlington County's Action Alert to let the County know you want it included!
Other Posts tagged Trails